Description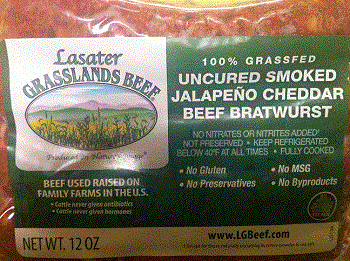 Our Bratwursts are made using 100% Lasater Grasslands Beef. We use all completely wholesome ingredients! They come in 12oz packages containing 4 – 3oz Bratwursts.
The brats are delicious and a teeny bit spicy! Slap these brats on the grill or pan fry them; perfect for a change when you don't feel like a burger or a steak.
The full ingredient list is: Beef, Water, Cheddar Cheese, Seasoning (Sea Salt, Turbinado Sugar, Spices including Mustard, Paprika), Nonfat Dry Milk, Onions, Dehydrated Jalapenos, Celery Powder, Sea Salt, Garlic, Sheep casing.