Description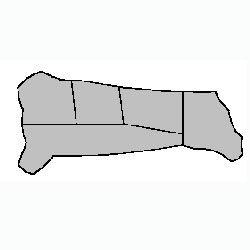 Gather a few friends, co-workers, family members, or neighbors to share a side of beef. You will find the price per pound is very cost effective.
Another cost effective option that won't take up quite as much freezer space is a 1/4 of a beef. This option is available with the same cuts as our sides (we will just split a side in half).
Please place order by telephone. Call toll free 866-454-2333.
For a full side we charge $8.99 per lb of finished meat weight for pick up orders and $9.99 per lb of finished meat weight for shipped orders. A side of beef will take 6 to 7 boxes to ship so this will help us offset some of the shipping cost.
For a 1/4 we charge $10.99 per lb of finished meat weight for both pick up and shipped orders.
The 5% pick up discount throughout the rest of our site does not apply to our sides or quarters of beef.
Total weight of our sides will be between 175-220 lbs. of:
roasts, stew meat (30%-40%)
steaks (20%-30%)
ground beef (35%-45%)
6 cubic feet of freezer space needed. Shipped in 6 to 7 boxes.
Do you have questions about buying a side of grassfed beef?
Please take our survey today so we can answer them for you.
For Beef Side ordering information, please call us at 866-454-2333